:: What's the Best Way to Pay? ::
When paying for school, it's best to go for free money first. Apply for grants and scholarships and use any available family savings before taking out a student loan.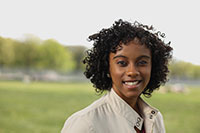 If you must borrow to pay for school, exhaust all federal loan options before considering private, sometimes called alternative loans, which can have higher interest rates and fewer flexible repayment options. Also, try to avoid using credit cards to pay for school-related expenses.
Make sure you monitor your financial aid needs each semester and adjust your borrowing accordingly. Continue to apply for grants and scholarships each semester, and consider working during school to help decrease your need to borrow.
Always keep your starting salary in mind when making borrowing decisions. You can view state wage data at the Oklahoma Wage Network. It's a good rule of thumb to borrow no more than the annual salary you expect to earn during your first year after graduation. Use the Mapping Your Future Debt/Salary Wizard to keep your borrowing in check.
And, lastly, don't forget to submit the Free Application for Federal Student Aid (FAFSA). It's the place to start when looking for financial aid for school.
For more information about making better-informed borrowing decisions, download our Borrow Smart from the Start PDF brochure.

View this video and its transcript on YouTube.
:: Additional Resources ::