:: News ::
Catch the Latest: OKMM Newsletter

Your go-to resource for timely personal finance education, resources and services
View our current and past editions:
---
Direct Loan Interest Rates for 2023-2024
Interest Rates for Direct Subsidized Loans, Direct Unsubsidized Loans, and Direct PLUS Loans First Disbursed on or after July 1, 2023 and before July 1, 2024
| | | | |
| --- | --- | --- | --- |
| Loan Type | 10-Year Treasury Note High Yield | Add-On | Fixed Interest Rate |
| Direct Subsidized Loans and Direct Unsubsidized Loans for Undergraduate Students | 3.448% | 2.05% | 5.50% |
| Direct Unsubsidized Loans for Graduate and Professional Studies | 3.448% | 3.60% | 7.05% |
| Direct PLUS Loans for Parents of Dependent Undergraduate Students and for Graduate or Professional Students | 3.448% | 4.60% | 8.05% |
Source: Federal Student Aid
---
Ready Set Repay Offers Videos
Ready Set Repay, the student loan management initiative of the Oklahoma College Assistance Program (OCAP), strives to help student loan borrowers make smart borrowing decisions and successfully repay their student loans. There are many things to consider when taking out or managing a student loan. Our short videos aim to make these concepts easier to understand.
They are available on OCAP's YouTube Channel and on the Videos page at ReadySetRepay.org. Feel free to share these videos or link to it from your website.
---
COVID-19: Financial Aid and Student Loan Updates
If you're looking for free up-to-the-minute guidance on federal student loans and financial aid during the Coronavirus pandemic, visit StudentAid.gov.

---
Poster on Interest Capitalization of Student Loans
Ready Set Repay, the student loan management initiative of the Oklahoma College Assistance Program (OCAP), is pleased to share a tool for financial aid partners: our Interest Capitalization poster!
As part of OCAP's continuing mission to help you teach students across the state how to make smart borrowing decisions and successfully repay their student loans, we are constantly developing new educational materials. Our latest poster focuses on the long-term benefits to students of making interest payments toward student loans while still in college.
Click here to view or print the poster.
---
Beware: Avoid Loan Services Scams
The unauthorized use of institutional logos, seals, names and other trademarks is a growing trend. Often, third party companies using such trademarks without authorization target student loan borrowers for payment for services that would otherwise be free. The Department of Education (ED) recently issued two cease and desist letters to third-party "debt-relief" companies that were using ED's official seal without authorization.
As a borrower, it's important to be aware that the following federal student loan services are free, and you should never pay a third-party company to assist you with these services:
Consolidating federal student loans
Changing repayment plans
Resolving defaults
Filing requests for borrower defense loan cancellation
Some third-party companies also target colleges and universities, claiming to offer special benefits for borrowers through the school. All postsecondary institutions are encouraged to:
Provide warnings to students, including on institutional websites, about so-called debt relief companies.
Provide information to students indicating that they do not need to pay for loan benefits for Federal student loans.
Review institutional websites to ensure that they provide the most up-to-date information about the terms and conditions of federal student loans and the servicing of those loans. In reviewing several institutions websites, ED became aware that some sites contain outdated information about the Direct Loan Servicing Center and had directed students to call a number that is no longer associated with ED.
To learn more, read ED's electronic announcement, Third-Party Debt Relief Companies' Use of Institutional Names, Logos and Other Trademarks.

---
Loan Forgiveness Programs
In these challenging economic times, you may see loan forgiveness as a potential solution for your student loan debt woes. However, it's important to understand that forgiveness of all or part of your student loan is rare and happens under very specific circumstances. Click here for more detailed information about the forgiveness, cancellation and discharge programs available.


---
Student Loan Terminology Flyer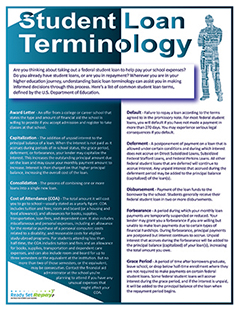 Throughout your higher education journey, you'll have many decisions to make concerning student loans. Whether you're deciding if you need to borrow student loans, how much to borrow or which repayment plan to choose, it's important you're equipped with timely information every step of the way.
As a borrower, understanding basic student loan terminology is invaluable. With that in mind, Ready Set Repay has created an electronic flyer defining 20 basic student loan terms used by the U.S. Department of Education.
Download the Student Loan Terminology electronic flyer.