:: Publications & Forms ::
Classroom sets of our publications may be available upon request, depending on inventory level. Call (405) 234-4300 or email WeCanHelp@ocap.org to discuss your needs.
:: Publication Highlight ::
Student Loan Terminology Flyer
Your borrowers have many decisions to make concerning student loans throughout their higher education journey. Whether they're deciding if they need to borrow student loans, how much to borrow or which repayment plan to choose, it's important they're equipped with timely information every step of the way.
Understanding basic student loan terminology is invaluable to your borrowers. With that in mind, we've created an electronic flyer defining 20 basic student loan terms used by the U.S. Department of Education. Consider including this flyer in your electronic award letters and sharing it with your student borrowers during entrance counseling.
Click here to download the Student Loan Terminology electronic flyer to use in emails or to print. We also have a black and white version available.
---
Borrow Smart From the Start Brochure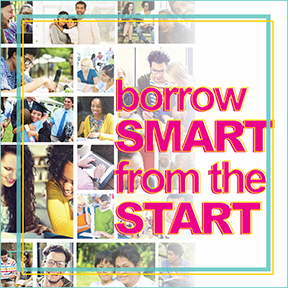 Our smart borrowing brochure, "Borrow Smart From the Start", is your students' guide to reaching student loan success. Through this publication, your students will learn important steps, including:
Completing the FAFSA each year they need aid and always go for free money first.
Securing free money, like grants and scholarships, before they turn to student loans.
Making a budget while in college that includes their student loan interest payments.
Communicating with their lender about updates to their information and if they're struggling to make loan payments.
Whether your students are preparing for college and considering student loans for the first time, in their grace period or currently repaying their loan, this publication provides everything they'll need to borrow smart from the start.