Ready Set Repay Offers New NSLDS Video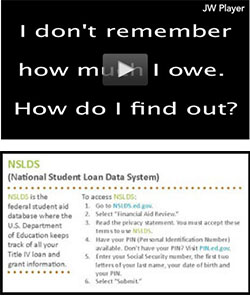 As you know, borrowers need to access the National Student Loan Data System (NSLDS) to obtain information about their student loans. Ready Set Repay now offers a short video to walk borrowers through the NSLDS process, step-by-step. The video is also available on our YouTube channel, OkCollegeAssistance. Feel free to link to the video from your website.
Don't forget, we also offer NSLDS business cards to help you share this important information with borrowers. Contact Shelley Sanderson at ssanderson@ocap.org to order a supply.
---
Mary Heid
Director for Default Prevention, Compliance & Training Services
Oklahoma College Assistance Program (OCAP)
P.O. Box 3000 | Oklahoma City, OK 73101-3000
mheid@ocap.org | www.ReadySetRepay.org