Ready Set Repay Now Offers Web Link Buttons for Partners
In only two short months, we've already seen a great response to our new Ready Set Repay website. Thank you for checking out our new home on the Web! We hope our information and tools are most helpful to you as you work hard to provide top-notch service to your students.
To help you promote our Ready Set Repay information to your student loan borrowers, we're offering buttons you can add to your financial aid Web page, which link back to ReadySetRepay.org. These colorful buttons are more eye-catching than a traditional Web link and will hopefully entice students to learn more about how they can stay on track for student loan success.
These samples do contain a watermark, so if you're interested in adding one to your financial aid page, email Mary Heid and we'll provide you with the artwork you need. JPG and PNG files are available, and if you need a custom-made button or a specific size, we're happy to provide it.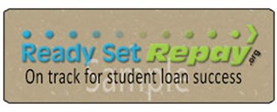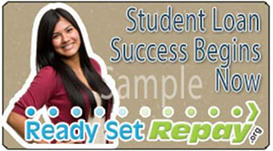 ---
Mary Heid
Director for Default Prevention, Compliance & Training Services
Oklahoma College Assistance Program (OCAP)
P.O. Box 3000 | Oklahoma City, OK 73101-3000
mheid@ocap.org | www.ReadySetRepay.org